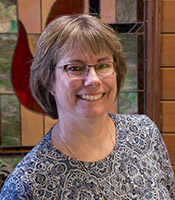 Bookkeeper and Administrative Assistant
Julie has worked at UMCA since April 2011. Her passion is helping others and serving in different ministry areas. She will complete two Bachelor's degrees at Metropolitan State University with majors in Human Services Disability Studies and Administration along with a minor in gerontology in December 2016. She has several years experience working in church administration and finances and other church ministries. In her spare time, Julie also works with Family Promise of Anoka County and serves as a state officer with the Minnesota Women of Today, and on the Board of Directors of the Minnesota Women of Today Foundation. She is very active in the communities of Anoka and Ramsey.
She loves to read and enjoys needlework along with spending time her her husband Lee, and their three children. You can contact Julie in the church office at
763-421-2378, ext. 101
or by email at

julhamm@aol.com.