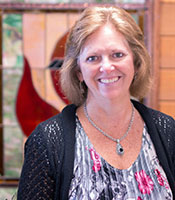 Director, Jubilee Bells, Angelic Chimes, & South Street Boys
Kathy Chojnacki is the Director for Jubilee Bells, Angelic Chimes, and South Street Boys. Kathy moved to the area in 2001 and became involved with the bell choir right away. She started a high school group about 2003, with the Chimes starting shortly thereafter. When the opportunity to direct the adult bell choir came up, she decided to give it a try, loved it, and has been doing ever since. Kathy started playing bells in 1977 with a group from Salt Lake City, known as the Wesley Bell Ringers. Bells have become a passion and she loves to get others involved in the instrument. Kathy was asked to direct the South Street Boys men's choir in 2014.
Kathy was born in Iowa, and has also lived in Wisconsin, Utah, Illinois, Missouri and finally landed in Minnesota.Her favorite way to spend leisure time is up north at the cabin.