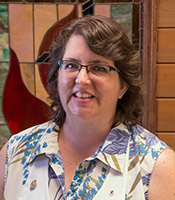 Kim has had the pleasure of attending the United Methodist Church of Anoka for fourteen years. She belongs to the local unit of United Methodist Women, the largest denominational faith organization for women turning faith, hope and love into action on behalf of women, children and youth around the world.
Kim was consecrated into the Order of Deaconess and Home Missioner on May 16, 2016. This Order is a life time commitment to Love, Justice and Service. Her current ministries are teaching at Kids & Company Child Care, serving at United Methodist Church of Anoka in ministries of the church and serving as the Minnesota Conference United Methodist Women's Vice President.
Kim is also The Family Promise coordinator for UMCA. (Family Promise is a ministry that
provides families experiencing homelessness with food, shelter, and hospitality). You may contact Kim at

kdharris102189@gmail.com

or by her cell phone at 763-300-5258.