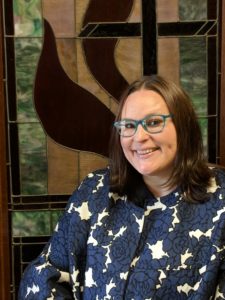 Pastor Rachael believes the most exciting work of ministry is seeing the spark in a person when grace awakens in them a recognition of God! Her passion for ministry is to bring people to a life-changing experience of Jesus through the community of faith so that they might see the world, love the world, and serve the world as followers of Jesus. T
his looks like engaging preaching, creative worship, infusing the arts into discipleship, and most importantly,
engaging people in following Jesus out in the community as good neighbors, involved citizens, and kingdom builders.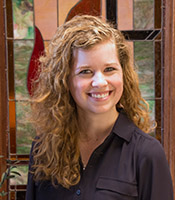 Laura joined the UMCA staff in October of 2016. Laura grew up in Cottage Grove, along with her five siblings. There was never a dull moment in the Hannah household, and her parents deserve all the credit for raising their children into terrific adults. Laura developed a love for learning that continued beyond high school, she is a graduate of Bethel University and Princeton Theological Seminary. Laura is married to Andrew Hoffman, they met while working at the Woodbury YMCA. After three years of dating long distance, they married in July of 2015. Laura enjoys board games, Geocaching, and fostering dogs. She is passionate about helping people become connected to a church community that is welcoming and develops each person according to their skills and gifts.
If you need someone in the nursery