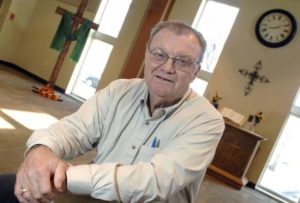 I was born and raised in North Dakota. I went to the University of North Dakota and received a degree in accounting. I served two years in the U.S Army. My wife and I have been married for forty-three years. We have three grown children and two grand boys. This is a second career for me. I owned my own tax and accounting business before going to seminary at Saint Paul School of Theology in Kansas City, Missouri. My hobbies are: playing with the grand boys, walking, riding bike, golfing, doing yardwork, and reading. We retired to Lakeville, Minnesota after thirty-three years of ministry to be closer to our two daughters and their families. This is my third Interim opportunity.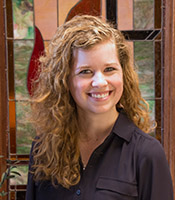 Laura joined the UMCA staff in October of 2016. Laura grew up in Cottage Grove, along with her five siblings. There was never a dull moment in the Hannah household, and her parents deserve all the credit for raising their children into terrific adults. Laura developed a love for learning that continued beyond high school, she is a graduate of Bethel University and Princeton Theological Seminary. Laura is married to Andrew Hoffman, they met while working at the Woodbury YMCA. After three years of dating long distance, they married in July of 2015. Laura enjoys board games, Geocaching, and fostering dogs. She is…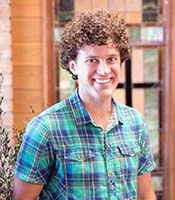 Coordinator of Family Ministries
Dave
joined the UMCA team in January of 2015 after living in Hungary, California and Wisconsin over the span of 10 years. He has had 11 years of experience working with kids, youth and families and is passionate about connecting them to God and others through music, videos, social media, and a great story. Dave enjoys backpacking, hiking and canoeing, podcasting, being an uncle, playing basketball/golf/tennis, biking, Yelping, watching movies, cheering for Minnesota sports teams and spending time with family and friends. He can be reached at
763-421-2378 ext. 105
or e-mail at
davelong15@gmail.com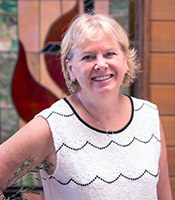 LouAnn began working at United Methodist Church of Anoka in April 2016. She has had 10 years of experience working in a church as Administrative Assistant in South Carolina before moving back to MN. She loves every minute and aspect of her job, from answering the phone to printing the bulletin, helping other staff members on projects and those coming in for food assistance. She grew up in White Bear Lake, MN and now resides in Blaine. In her spare time she most enjoys being a grandma, then, reading & a really good steak, fresh air and sunshine, apple pie and ice cream. You can contact LouAnn at the Church office 763-421-2378 or email her at umcanoka@gmail.com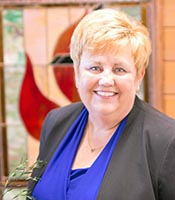 Sherrie has been at UMCA since 2004 working with the newsletter when it was only in paper form and the only avenue of congregational communication! Sherrie has studied art and music at the University of Minnesota and design at Northern Illinois University. She was born Minnesota, but spent 13 years in North Carolina.

She has served as Administrative Assistant for Champlin United Methodist and Northern Light Church of Ramsey. Her passion in Communications is to continually look for ways to communicate existing church-wide and ministry programs in creative ways that evoke a response from the congregation and community. She lives with her husband, Quentin, in Andover and loves the time she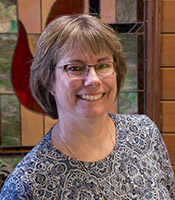 Julie has worked at UMCA since April 2011. Her passion is helping others and serving in different ministry areas. She will complete two Bachelor's degrees at Metropolitan State University with majors in Human Services Disability Studies and Administration along with a minor in gerontology in December 2016. She has several years experience working in church administration and finances and other church ministries. In her spare time, Julie also works with Family Promise of Anoka County and serves as a state officer with the Minnesota Women of Today, and on the Board of Directors of the Minnesota Women of Today Foundation. She is very active in the communities of Anoka and Ramsey.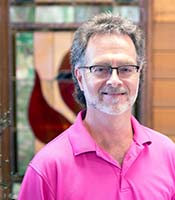 Praise Hymn
Band Director
Gary Ladyka first took an interest in playing the family piano and has since had the opportunity to play several different genres of music. For a variety of reasons, the one genre that is for him, the most challenging and the most personally rewarding is sacred music.
As a musician, you always strive to give the message of the song the right sound and the right feel. And when that happens, it's a great feeling. But, when you're able to touch someone's heart and mind with a message from God through the music you are playing that is a feeling that is quite simply amazing. He feels truly blessed to have the privilege of being able to share God's word through music with the people of Anoka United Methodist Church.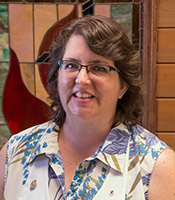 Kim has had the pleasure of attending the United Methodist Church of Anoka for fourteen years. She belongs to the local unit of United Methodist Women, the largest denominational faith organization for women turning faith, hope and love into action on behalf of women, children and youth around the world.
Kim was consecrated into the Order of Deaconess and Home Missioner on May 16, 2016. This Order is a life time commitment to Love, Justice and Service. Her current ministries are teaching at Kids & Company Child Care, serving at United Methodist Church of Anoka in ministries of the church and serving as the Minnesota Conference United Methodist Women's Vice President.
8:30 and 10:00 a.m.
Memorial Day – Labor Day 9:30 a.m.
all ages at 10:00 a.m.
8:00 – 11:30 a.m.