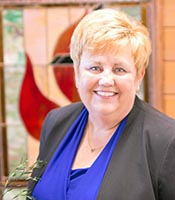 Sherrie has been at UMCA since 2004 working with the newsletter when it was only in paper form and the only avenue of congregational communication! Sherrie has studied art and music at the University of Minnesota and design at Northern Illinois University. She was born Minnesota, but spent 13 years in North Carolina.

She has served as Administrative Assistant for Champlin United Methodist and Northern Light Church of Ramsey. Her passion in Communications is to continually look for ways to communicate existing church-wide and ministry programs in creative ways that evoke a response from the congregation and community.
Sherrie lives with her husband, Quentin, in Andover and loves the time she spends with her grandchildren, reading, building harpsichords with her husband and playing & inventing games with friends & family. Sherrie can be reached at church by phone 763.421.2378 ext. 110 or email at

sherriedenzene@gmail.com

.