We are ONLINE for Sunday Worship!
Services are available on Facebook and YouTube on Sundays at 9:30am
(The service is public for viewing on YouTube at 7:00am on Sundays for our early birds! Services remain online throughout the week for those unable to view on Sunday.)
Your financial support helps us pursue our vision of providing hope to our community!

The United Methodist Church of Anoka is an increasingly diverse, hope-filled, and inclusive congregation with a warm sense of fellowship and an enthusiastic spirit. In everything we do, we seek to follow Jesus and provide hope to our community. We believe that God's love is for everyone! UMCA is rooted in the traditions of our faith, while open to the new thing God is always doing among us. We live out our commitment to Christ by praying always, growing in faith, giving generously, serving others, and sharing the story. We look forward to connecting with you!
Current Worship Series
Read our weekly e-news to stay up to date on all things UMCA! Read on your browser or contact the church office for delivery to your inbox!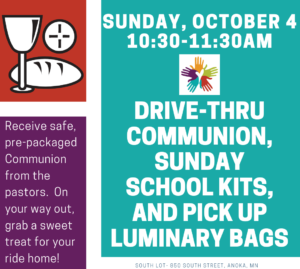 WE'RE HIRING! UMCA is looking for a Student Ministry Coordinator to work with our youth! Click for more info!

Join us on October 14
@ 6:30pm
at the Drive In!
Don't miss the next Drive In worship services at UMCA! Join us for a fun and uplifting time to be together to sing and pray!
BUSY BAGS AVAILABLE FOR KIDS!
Worship will go on, rain or shine!
Come as you are…stay in your car!