We are ONLINE for Sunday Worship!
Services are available on Facebook and YouTube on Sundays at 9:30am
(The service is public for viewing on YouTube at 7:00am on Sundays for our early birds! Services remain online throughout the week for those unable to view on Sunday.)
Your financial support helps us pursue our vision of providing hope to our community!

The United Methodist Church of Anoka is an increasingly diverse, hope-filled, and inclusive congregation with a warm sense of fellowship and an enthusiastic spirit. In everything we do, we seek to follow Jesus and provide hope to our community. We believe that God's love is for everyone! UMCA is rooted in the traditions of our faith, while open to the new thing God is always doing among us. We live out our commitment to Christ by praying always, growing in faith, giving generously, serving others, and sharing the story. We look forward to connecting with you!
Read our weekly e-news to stay up to date on all things UMCA! Read on your browser or contact the church office for delivery to your inbox!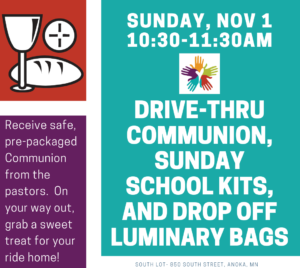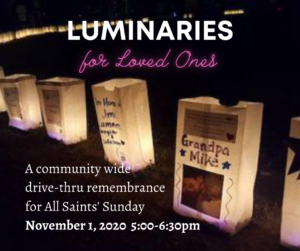 LUMINARIES FOR LOVED ONES
NOVEMBER 1, 2020
An ecumenical, community wide drive-thru experience with luminaries, music & prayers.
To decorate a bag for your loved one, contact one of the churches below. You can pick up a bag to decorate and instructions for returning your bag, or contact us and tell us a name you'd like us to write on a bag for you. Then drive through on November 1 from 5:00-6:30pm to see all the luminaries lit up.
Drive Thru Locations:
United Methodist Church of Anoka (with First Congregational UCC)
Trinity Episcopal Church, Anoka
Lord of Life Church, Ramsey
Grace Lutheran Church, Andover
Zion Lutheran Church, Anoka
Cross of Hope Lutheran Church, Anoka
UMCA will be hosting a blood drive on Monday, November 9th. All donations will be received by APPOINTMENT ONLY. For more information or to sign up visit redcrossblood.org.

WE'RE HIRING! UMCA is looking for a Student Ministry Coordinator to work with our youth! Click for more info!
"Remember: The United Methodist Church of Anoka is not closed!
Our mission remains: making new disciples of Jesus Christ for the transformation of the world.
Our vision remains: providing hope to our community.
Our commitment remains: God's love is for everyone.
We continue to dream and imagine the new ways God is inviting us to love one
another."
Randy Warren, SLB Chair on behalf of the UMCA Servant Leadership Board