Calling ALL Children!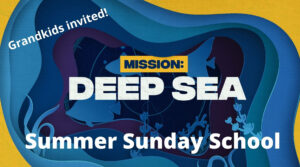 Summer Sunday School is happening now! Join us Sundays in June and July. (No Summer Sunday school on July 4.) Bring children to worship for opening prayer and Communion, and then Joan will invite them to join her in the Community Room for a fun lesson, followed by time playing together outside. Parents pick up your children outside following worship.
Our staffed nursery is also available every Sunday during worship.
Use the CONTACT US form here on our website to connect with Joan, our Director of Family Ministries – she'd love to have a chat with you and learn how UMCA can best support your family!
Joan is sending out regular email updates to families, planning summer fun, and preparing materials for fall learning and activities. Make sure you get all the news, updates, and invitations by registering your family today! Invite a friend or neighbor to register, too!

Managing money is challenging.
Six Weeks on Money is a digital course that helps people align their money with their values so that they can live with abundance and generosity. UMCA has partnered with 6W$ to offer this online course! Just click through to sign up – the cost of the course is $80, and it can be completed on your own at your own pace. Contact Pastor Rachael for a 50% off code (limited number available) today!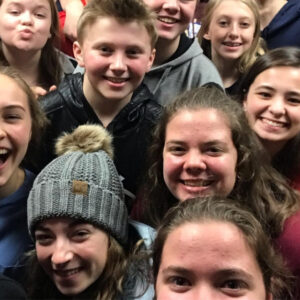 Student Ministry at UMCA
Ask Questions!
Build Relationships!
Grow in Faith!
Serve Others!
Student Ministry is a top priority at UMCA. We want youth and young adults to find a safe, welcoming network of friends and adults here who are sharing the adventure of getting to know Jesus. We also love all that these students bring to the life of our church – their gifts, their energy, their questions, their passion! Our students participate in worship, gather for fun events, and connect to grow in faith together.
We are currently searching for a new Student Ministry Coordinator to build relationships, have lots of fun, and share the adventure with our youth and young adults. If you or someone you know might be interested, please share the JOB LISTING far and wide!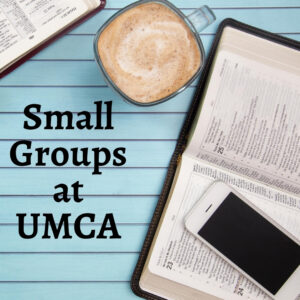 Especially during a pandemic, we rely on small groups for connection, learning, and growing deeper in faith!
UMCA has several small groups currently meeting, mostly virtually. These include Bible Study, book club, sewing and quilting, 20-30 somethings, and more! We would love to help you connect to an existing group or to start a new group!
CONTACT US!
Sewing and Quilting
Do you love crafting, sewing, or quilting? Join a fun group of folks a few times a month! Our group works on a variety of projects, including many to support our local community. The group meets a few times a month at UMCA and enjoys friendship and fellowship. New friends are welcome!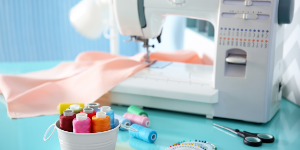 Breakfast Scholars,
Thursdays at 7am
Bring Your Bible,
Thursdays at 9:30am
Anti-Racism Book Club,
Wednesdays at 4pm
Jesus Was 33 (mid 20s-mid 40s),
Sundays at 11am

Music
Music Ministry has been the heart and soul of UMCA for generations. Now, during a season of pandemic, we are finding creative ways to keep music central to our worship and expression of our faith!
We embrace many styles of music and include a wide variety of music in our worship, such as organ, piano, handbells, acoustic guitar, and many ensembles. Styles range from classical to modern and even include the occasional visit from a jug band or a barbershop quartet! We love to have musicians of all ages and skill levels use their gifts to glorify God!
We also see music as a ministry and love caroling at the local hospital each year!
We're looking for musicians willing to share a piece for online worship! You can record yourself at home or come in and record in the sanctuary! Interested? CONTACT US!
United for the Community!

Our vision at UMCA is providing hope to our community. Our signature ministry, United for the Community, encompasses all the ways that we seek to live in service to others as followers of Jesus. This ministry builds community as we rely on many community partners who come alongside us in these ministries.
We invite our neighbors to a variety of events throughout the year, including a back to school backpack giveaway and summer Bible day camp for kids! Our kids and teens clothing closet, onsite at UMCA, provides by-appointment shopping for local families. Church members coordinate and volunteer for local organizations including Meals on Wheels, ACBC food shelf, local schools, domestic violence shelters, the Sheridan Story, and many more! We send contributions throughout the year to mission through UMCOR.
CONTACT US to learn more about serving others with UMCA!

Caring Ministry
Making connections with each other is one of the best things about becoming part of a congregation! Here at UMCA, we are finding creative ways to build and maintain connections wherever we can, especially as many of the people we love most are feeling isolated and at high risk.
You can offer care and support in a variety of ways. Here are a few ideas:
We can give you a few names of people who would enjoy receiving a card now and then, and you can write to them

Join our calling team and commit to call one or several folks each week to check in, listen, and pray together.

Let us know if you'd be willing to deliver groceries, pick up medications, or help in other ways.
Schedule a Virtual Visit with Pastor Laura
Are you interested in having a more personal conversation about how you or your family can get connected here at UMCA?
Schedule a time to visit with our Discipleship Pastor, Rev. Laura Hannah, today. She'd love to get to know you and help you find the places where you can find meaningful connections an
d personal growth. CONTACT US

and Pastor Laura will be happy to reach out to you to set up a visit soon!